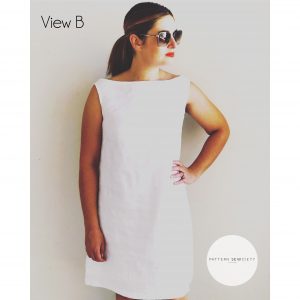 Hi everyone,
Pattern Sewciety is a brand new pattern design company that will mainly focus on designing modern dress patterns for the fashion forward home sewer. To read more visit our About section.
I am very excited to give you the opportunity to apply for our very first tester call! Below you will find the info to test the pattern that has 3 different views.

Please keep the following in mind before applying:
The test will run from 23 – 30 April. PLEASE APPLY BY SUNDAY, 22 APRIL. Testers will be required to sew and send back the feedback form and photo of sewn garment (photo will not be used without your permission) by Monday, April 30th. If you fail to meet the deadline then you will not receive a copy of the final pattern.
A Facebook group will be created for the group testing the pattern, and you will be added if your application is successful.
Our pattern does not have a name yet, and we thought it a great idea to give our testers the opportunity to name our pattern. If the name you suggested is chosen, you will receive the next 3 Pattern Sewciety patterns for free, regardless if you test for us or not!!!
Ok , so more about the pattern…
This dress is a modern take on a classic silhouette. Work or play, casual or cocktail, with the right choice of fabric, this versatile dress pattern can take you through your day in comfort and style. With three design options to choose from, you can make a dress for any occasion with this one single pattern. This pattern is a great option for the NOVICE SEWER as you work your way through basic sewing skills, but will be just as enjoyable for a more EXPERIENCED SEWER.
The dress features french darts, shoulder darts, and a beautiful boat neckline. The Off The Shoulder option features a lovely, feminine frill/ruffle. Best part of this already great pattern – no closures!!!
It comes in sizes XXS – XXL. Please find Size Guides below.